Windsor Assembly Plant – Transforming History
Project: R U Project – New Pacifica Line
Location: Windsor, Ontario
Contract: $8,000,000.00
Owners: Fiat Chrysler Automotive
Project Duration: 14 weeks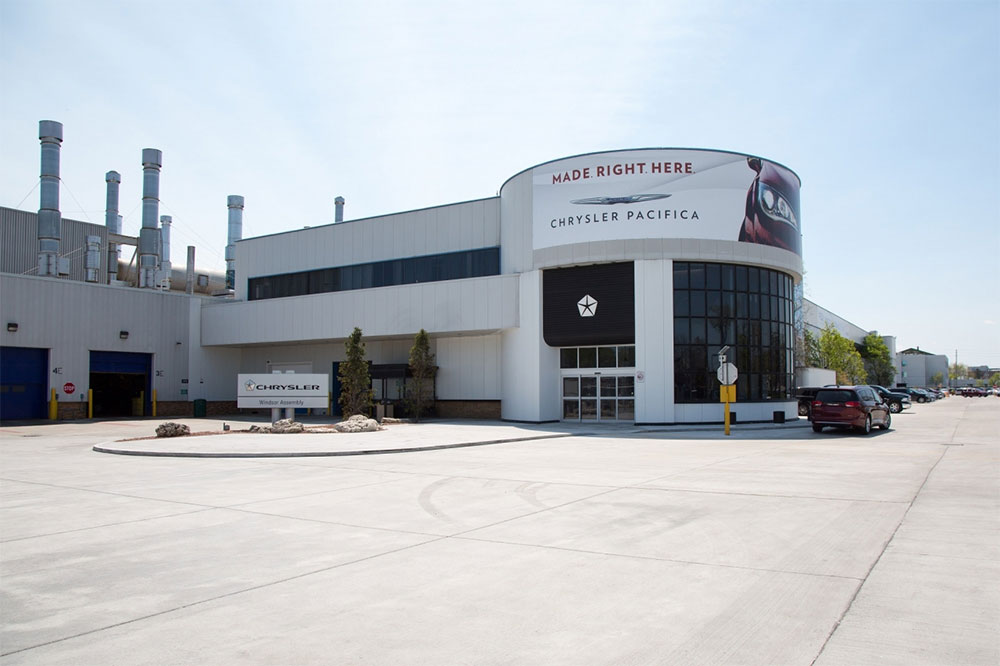 The lift involved extensive planning with FCA, engineers, operators, riggers, iron workers and, due to the size and proximity of the crane to the runway at Windsor Airport, it also involved co-ordination with air traffic control. The lift was completed in 3-days and during the 14-week shutdown the existing  roof top was removed.
The Windsor Assembly Plant is synonymous with the Canad an Automotive Sector. The factory opened in 1928 and since then has produced many iconic vehicles, from the original Dodge Charger and Plymouth Baracuda to one of Chrysler's most popular vehicles, the Dodge Caravan, Grand Caravan and Town & Country minivans.
Since its opening, the plant has undergone 15 major expansions and comprises of more than 4.5 million sq.ft. of floor space. In  late 2014 renovations  began  on the historic building to accommodate a new vehicle that was yet to be announced.
The 2014 transformation began d ring the two-week Christmas holiday and started with the addition of the roof top conveyor.  Columns and old steel trusses were reinforced prior to placement of the roof top system. The original plan by FCA was to do the lift using a helicopter.  Matassa sought a cheaper alternative and suggested the use of a 600-ton crane.
I n addition to the roof top conveyor system Matassa did extensive renovations to several existing truck docks and created several new truck docks to supply the plant with material for the new line. The build schedule was complex and extremely tight with zero room for error. Like all construction projects, unexpected problems arose, however Matassa worked  promptly with FCA engineers to establish the most efficient solution without sacrificing valuable time or the quality of craftsmanship.
The Windsor Assembly Plant produces more than 1,400 vehicles a day. During the shutdown the plant was emptied of supplier materials and parts.  In order to start production, new materials and parts needed to arrive as soon as possible. Matassa knew the importance of getting the shipping docks ready for restocking and was able to deliver the finished project 2 weeks early.