Ambassador Bridge East Truss Railing Project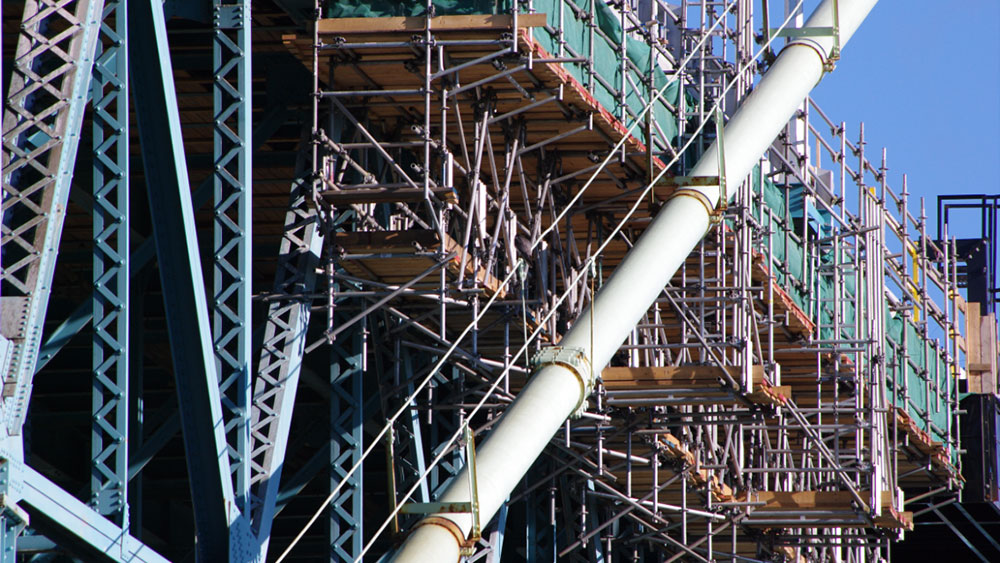 This is one of Matassa Incorporated's most unique projects to date. The Ambassador Bridge is an icon to Windsor-Detroit residents and an essential transportation trade route carrying over 68,000 vehicles and over 8,000 trucks daily. The ability to carry out the project and maintain traffic was vital to the economies of both Windsor and Detroit.
The project involved removing the outer 7 ft. of road deck, removing the existing railing, removing the last 4.5 ft of joist and splicing in a new beam. The repairs were then painted and a new road deck placed on top.
In order to least affect traffic the new road decks were manufactured offsite as precast panels. The panels were then transferred to the bridge as needed and lifted into place with an excavator.
What made working on the bridge unique was the affect equipment, lifting and working had on the bridge structure. Matassa worked closely with a team of engineers to insure every lift procedure was accomplished safely. Every lift began with Matassa meticulously planning the locations of equipment, material and personnel throughout the entire lift. These drawings were then reviewed by an engineer and followed explicitly. Attention to detail was important to everyone's safety, the integrity of the bridge and the success of the project.
Following placement of the precast panels, they were formed and grouted into place while the areas between panels were formed and filled with concrete. Providing work platforms for the workers was a unique challenge. A custom platform was designed by an outside company that was lifted into place with a crane. This work involved closing all but 1 lane on the bridge and took place early Saturday mornings.
In total 817 LF of new deck, joists and guardrail were placed in a little over 6 months with minimal affect on traffic.