Concrete Polishing – Grinding & Polishing Experts
Serving London, Windsor, Sarnia, Chatham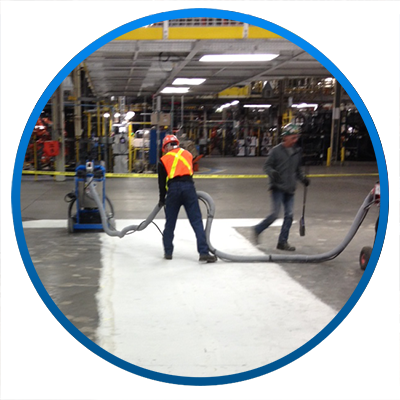 Consider Matassa for your next Concrete Polishing project. Matassa has provided high quality concrete floor polishing services for many of our commercial, industrial and institutional projects.
Concrete Polishing is one of the most durable and cost-effective solutions for floor surfaces in industrial and commercial settings. The finish creates a smooth, durable and attractive surface that is appropriate for multiple uses and traffic types. The process can transform unattractive, worn-out surfaces into floors that are safer, easier to clean and that add greater value to your property.
Polished Concrete Floors provide many advantages including:
Smooth, safe surface for walking and machinery (non-slip)
Durable surfaces won't chip or crack
Easy to clean non-porous surface inhibits contamination by water, oil, chemicals, dirt, germs
Customizable with stain treatments for colour-coordinated floors
Reflection of lighting off the glossy surface increases brightness and reduces lighting costs
Meets health and safety standards for all industries
Affordable solution – more affordable than most other flooring options
Long lasting – properly prepared and maintained floors can last a century
Matassa is highly skilled in the latest industry techniques for polished concrete floors. Our experience, industry knowledge, and machinery enable us to work within all industry sectors throughout Southwestern Ontario.  Our diamond grinding and polishing process ensures professional results that are attractive, durable, and long lasting.
Commercial, Industrial, Institutional Applications
Polished concrete floors appeal to commercial, industrial and institutional clients for its durability and cost effectiveness.  Polished concrete is often selected for warehouses, retail stores, hospitals, offices, showrooms, restaurants and homes. It is one of the most innovative and long term economical flooring options available today
For more information on a new polished concrete floor or turning your old dull floor into an attractive durable finish email us or call us at 519-737-1506.